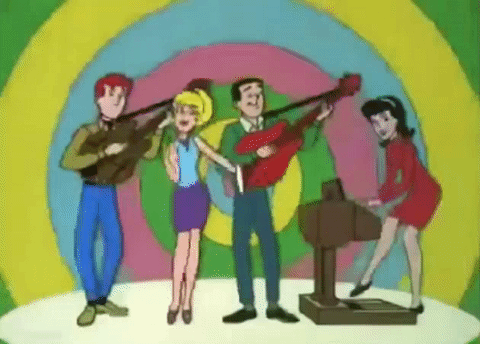 On occasion, my group of friends and I will say something and go "Golly! That would make a neato band name!"
We then form that band and play at the Riverdale High Pep Rally (Go Bulldogs). We look over and everyone has a good laugh as we catch Principal Weatherbee boogieing down! Meanwhile, there's a commotion from the hall! Seems Miss Beazley caught Jughead in the pantry again!
Oh Jughead…
Seriously, Jughead. Get help, my dude.
Anyway, here is the second part of my ever growing list of band names that I actually have the forethought or sobriety to jot down. Enjoy!
Refugees Louise

Karmic Institution

The ILLbillies

MOOD (Melancholy Observations On Death)

Corn Dog Nuggets

Band Wanton

Gesticular Torsion

Pop, Lock and Crocs

Chug o' War

#800000 V

President Weevil

Guy's Flavor Town Hall

Professional Rossplayers

Barely Normal Activity

Galbladder

We Read Books

Towel Whip Assassin

Larry Berry's Dairy Prairie

Karaoke Dokey!

The Waluigi Preservation Society

The Captain and Two Neals

Now FINDING two Neals might be tough for some people. I suggest just starting the band and then legally changing your name.

[Randall, Put the Band's Logo Here Later]

Paper Wait

Aspic

Indie Group That Uses Big Words In Our Songs

Ass & Avocados

We Aren't Real People

Thanos's Ash Tray

Rocky Horror Powerpoint

Frankenstein`s Security Deposit

Bitin' Wachootoos

Frijole Moly!

Eggs Cumberbatch

Grapple Pie

The What

The Why

The When

The How

The Where

The WhoWhatWhenWhereWhyHow

I'll Be Bach

Here Today, Gone Tamale

Anti-Cripes

LED Orchestra

Three Random Bitches

Clog Cabin

Green Cockle Denomination

Foot Test Massage

Beast N' Cheddar

Absolue Lack of Musical Ability (ALMA)

Alt-F4

Alt128701

Noir for Kids

With hits like "Jimmy Twitch ain't gonna snitch" and "Who's in the Trunk, Who's at the Pier"

Elon's Musk

Toy Hearse

(the) cold smoke

Pill-O-Talk

Bran's Parachute

Lucky Harms

Yeet & Sour

Iron Laden

Trolling Stones

High Ground

When Doves Sigh all passive aggressively, y'know? Like they want you to know they're mad, but they won't just say that.
And there you have it! Select your favorite and then go bring music to whatever venue will be willing to give you drink tokens or a handful of crumpled ones to play for them!
Also, still #TeamVeronica.
~C