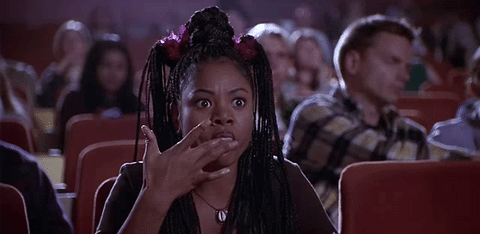 Toward the end of 2017, I got into the habit of seeing one movie in theaters every single week. It became a steady part of my routine, so much so that I dedicated myself to seeing one movie a week every week of 2018 and keeping a rolling list.
I failed.
Not miserably so, I ended up being just 5 shy. Various weeks of extreme business and the inevitable business of the holidays prevented me from fully reaching my goal. Still, 47 movies in a year is not bad.

What I liked about the project is, while the movies became a routine, they divided up the average routine into something extra. It gave me something to do after work or in between weekend errands. It was a nice reprieve to be like "well, we HAVE to do this today" but the thing we were doing was an enjoyable past time and not just another gripping obligation.
I think everyone should have something like this in their routine. Something that you enjoy that you make a REQUIREMENT. Too often we deem that leisure is only for when all work is out of the way. The truth though is that all the work is NEVER actually done. If you finished one massive project or chore, there will be a new one looming. That's the inevitability of maintaining a life. As we live in our home, it becomes dirty. As we progress at our job, new things come up to demand our time. As we finish one creative project, our brain decides on another. There will always be more to do and if we define our leisure time by the absence of obligation, then it makes the time we do sit down to just enjoy ourselves clouded by worry and thoughts of what's next.
I'm not one for resolutions, honestly, if you can't tell from the few posts I have poking fun at them. But this year, give it a try. Tell yourself "once a day, every week, I am gonna do this thing that makes me happy." Instead of filling a schedule with obligations and finding time for leisure elsewhere, OBLIGATE leisure time in your day-to-day life. Make time for you and make your emotional health a priority.
For those interested, here is my list of movies:
1: Jumanji
2: Molly's Game
3: I, Tonya
4: The Post
5: Winchester
6: Three Billboards
7: 15:17 to Paris
8: Black Panther
9: Annihilation
10: Tomb Raider
11: Peter Rabbit
12: Ready Player One
13: Blockers
14: Chappaquidik
15: Truth or Dare
16: Rampage
17: Infinity War
18: Isle of Dogs
19: Deapool 2
20: Solo
21: Disobedience
22: Hereditary
23: Hotel Artemis
24: Jurassic World
25: TAG
26: Uncle Drew
27: Ant-Man and the Wasp
28: Skyscraper
29: Eighth Grade
30: The Spy Who Dumped Me
31: The Meg
32: Slender Man
33: Happytime Murders
34: Searching
35: The Nun
36: The Wife
37: Venom
38: The House with a Clock in it's Walls
39: A Star is Born
40: Halloween
41: Bohemian Rhapsody
42: Ralph Breaks the Internet
43: Spider-Man Into the Spider-Verse
44: Green Book
45: Welcome to Marwen
46: Vox Lux
47: Aquaman
~C