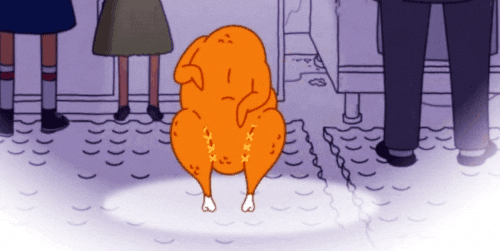 Things I am thankful for:
Fallout 76. Thank you for reminding me that even things that I love will one day disappoint and betray me.
Donny Cates. For showing that sometimes the best way to create something new is by simply cramming two old things together and going with whatever the result is.
Netflix. Thanks for doing that jumpscare intro for a month or so around halloween. It's good to know my heart is still healthy.
Leftovers. A month from now I will have something to do when I open the fridge, see the dozen or so tupperware and say "oh, ew, we still have leftovers."
The 2018 Election. Thank you for showing that we live in a country where a state that is very evenly split between two parties will receive mockery and ire from the rest of the country instead of being praised as a prime example of democracy at work.
Keyforge. Randomly generate names for decks in an incredibly random card game? Cool idea. Who knew it would be the source of such simplistic comedy.
Food Network Cooking Challenges. Thank you for the opportunity to sit and be loudly judgmental of  someone else's culinary abilities and choices. It's the perfect accompaniment to my microwaved Spaghetti-O's.
Sony's Spider-Man. Not really anything funny to say, just thank you. The whimsy and joy this game gave me was remarkable. I felt like I kid again the whole time. I can't wait to play the DLC.
My three cats. Honestly, that whole desire to have a clean home was just getting in the way anyway. Good lookin' out, cats.
Bradley Cooper. Thank you for making the bar of attractive male so incredibly high. Seriously, I was worried it would be too easy to be considered attractive. Handsome, funny, great beard, Well educated, multi-lingual, talented actor, talented voice actor and, thanks to A Star is Born, musically talented both on an instrument and in voice. Awesome. Thank you SOOOOO much, you ass.
The Haunting of Hill House. Thank you for bringing the hidden ghost concept to mind so now I can't watch any show or movie or even walk through my own home without looking for subtle ghosts hiding somewhere.
White Barn 3-Wick Candles. It's nice to have an addiction that at least smells good. Still an addiction, though. Seriously. This is a cry for help.
The people of New Orleans. I thought I knew what drinking was, but you guys showed me there is just like a whole other tier of drinking I didn't know existed.
And of course, I am thankful for my awesome friends, wonderful family, and my lovely wife. Thank you to all those people for being in my life.
Now I better start cooking or those friends are going to beat me.
~C