Part One, for those who missed it.
---
Animal Kingdom
The Laid Back One
Best Ride: Expedition Everest. Wonderfully themed, delightful and entertaining queue. Theme persists throughout ride while delivering an enjoyable roller coaster experience.
Best Show: Tough, because this park has some pretty stellar shows, but I gotta go with UP! A Great Bird Adventure. Because birds are awesome.
Best Snack Spot: Creature Comforts is right up front and is a great place to grab some pastries and Starbucks coffee on your way in or your way out. The Africa section of the park has the widest variety of snack options if your group is like mine and everybody wants something different. Head to that area for pastries, coffee, ice cream, panini, a sweets shop and even fresh fruit.

Best Place for a Meal: Harambe Market (Africa) or Yak & Yeti (Asia). Honestly, I'd schedule your trip to make sure you aren't in Dinoland USA at mealtime. The food choices there aren't necessarily bad, they just aren't very unique.
Best Booze: Toss up between Dawa Bar (Africa) and Thirsty River Bar (Asia). Dawa Bar is located right in the apex area of the Africa section. It tends to get crowded up pretty quick, but since it's a counter service bar, it means your group can grab your drinks and go find somewhere shady to kick back. Best part is there are a series of performances that happen in the market square, which gives this bar some sporadic live entertainment. Thirsty River is a quiet, two sided bar right next to Expedition Everest. There's something soothing sitting back with a drink and enjoying the view of the water and all the thematic accouterments in the area, all to thee soundtrack of distant roller coaster screams. It tends to not get to crowded, from my experience, since most people only venture into this area in a mad dash for Everest.
Where to escape the crowds: The pathways here are fairly large, so congestion is usually minimal. However, in a pinch if you absolutely need a break from crowds, hit one of the animal trails. People will congregate here near popular animals, but for the most part, iif you just go at your own pace, you'll find breaks from the crowds. If you get somewhere and an animal is sleeping, it's especially clear, since most people want to see the animals up and bouncing around with top hats and canes. The smaller trails in discovery island are particularly empty and also decently shady. I would also recommend heading to Dinoland from Asia. This area is pretty much only used for the Finding Nemo show, and very few people use this route (most people head straight to Everest and then wind their way back through Asia and Africa). However, avoid this area in the evening, since people will be gathering here for the nightly light show on the river.
How to beat the heat: Fortunately, this park has an abundance of shady spots, which helps avoid the dreaded Florida sun. However, it does have a tendency to get horribly muggy. I've seen a lot of people say It's Tough to be a Bug is a good place to escape the heat, and while it is predominantly underground and indoors, thus avoiding the sun, it unfortunately gets fairly humid in the queue and in the waiting area to go into the theater, probably because you spend most of the time surrounded by concrete. DINOSAUR does make for a decent escape, being predominantly indoors (if not entirely, I'm not certain an outdoor queue is used when it's SUPER busy), but if it gets too crowded, that humidity can again follow you inside for a portion of the wait time. There aren't many large indoor shops like in other parks, so it boils down to two strategies if the humidity is getting to you. First, catch a show. Finding Nemo is over by Dinoland and Lion King is in Africa. Both are big indoor theaters (The bird show I mentioned in more like an open amphitheater). Second, find some shade and relax. As any southerner can tell you, nothing beats the muggy weather like finding a comfortable seat, sipping a mint julep and fanning yourself while you complain about the muggy weather. Grab one of those squirt bottle fans, hit one of the bars or snack joints I mentioned above and relax. This is "The Laid Back One" after all.
Best Park for: People who want a chill experience. As the name above suggests, my favorite thing about Animal Kingdom is how it seems to just move at a different pace than the other parks. While a lot of people day trip to Magic Kingdom or Epcot, I think Animal Kingdom is an incredibly overlooked day trip destination. People generally seem less rushed, it has a LOT more unique food and drink options than other parks, tons of shade, plenty of places to just sit and watch the day wind down. Heck, even just strolling and looking at the animals is a calm experience. Honestly, you could come to this park and ride NOTHING and still have a wonderful day.
Worst Park for: People who want more thrills. Up until the recent addition of Pandora – the World of Avatar, this park had the lowest amount of overall attractions, and those were predominantly shows and animal trails. As far as rides go, it definitely has some excellent options, but they aren't as traditional or thrilling as some may want, focusing instead on being very thematic. People looking for more rides will prefer Magic Kingdom, while those wanting more intense rides will want to hit Epcot or Hollywood Studios. Don't get me wrong, the attractions here are delightful and absolutely fun, but it's reasonable that thrill seekers may find this park a lot of walk and not enough ROCK!
---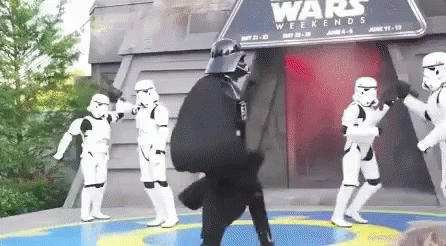 Hollywood Studios
The Thrilling One (with a Boozy Secret)
Best ride: I have to go with Star Tours, but there are some seriously phenomenal rides here. Take your pick. Star Tours wins for me for the randomness, quick, thematic queue, and generally well-balanced ride experience.
Best show: Fantasmic is worth catching at least once in your life. Star Wars: A Galaxy Far Far Away is also a great one to catch while sitting down for lunch or a snack (It's smack dab in the center area and reasonably close to a handful of great snack and drink spots).
Best Snack Spot: Sunshine Day Cafe (if it's open) or the Sunshine Ranch Market, which features all sorts of options.
Best Place for a Meal: Dockside Diner or Woody's Lunchbox. Both have fairly unique and tasty options compared to the ABC commissary and the Backlot. Quick note: Mama Melrose's, the Sci-Fi Dine-in and the '50s Prime Time Cafe are all fun experiences, but they can be a bit pricey. The food is definitely of a higher quality than a lot of park food, but some of the prices can be a bit excessive. Check them out at least once because they're fun and then move on (It's fairly easy to share items at Mama Melose's which makes the price much more bearable).
Best Booze: Now, the thing is, you'd never think it what with all the Star Wars and Disney Animation stuff running throughout this park, but this is EASILY the most underrated drinking at Disney experiences in the whole of Disney World. Not only do they now have a BaseLine Tap House, but just about every single food stop offers alcoholic options. What makes this exciting iis that they also typically feature UNIQUE options from other spots around the park. Nowhere is this illustrated better than Sunset Ranch Market, a collection of 5 different food options: Anaheim Produce, Rosie's All-American, Catalina Eddie's, Hollywood Scoops and Fairfax Fare. Each of these places, which are all small booths in an area surrounded by picnic tables, has an alcoholic cocktail option NOT AVAILABLE AT THE OTHER BOOTHS. So really, you have your pick here, but my two favorite choices have to be Tune-In Lounge or the Brown Derby Lounge. Both are gonna be pricier drinks, but they craft some REALLY sublime cocktails. Seriously, the bartenders here know what they're doing. The Brown Derby Lounge is a patio that offers some seriously classically refined cocktails. I'm talking old-money cocktails done right. It's also a great people-watching spot and a decent place to try and catch the Star Wars show I mentioned above. Tune-In Lounge is the bar inside the '50s Prime Time cafe and is just a blast. Something about two bartenders pretending to be your aunt and uncle whipping up a delicious beverage, cracking wise with one another and chastising you when they can. The whole experience plays out to a backdrop of 1950s PSA's, commercials and cartoon clips, many of which I recognize from my days riffing on them for a show I did in college. It's just a generally surreal and fun drinking experience, however shoot for getting here closer to close or around mid-afternoon, between lunch and dinner. The lounge is the bar to the restaurant and can get pretty packed with people waiting for their tables at mealtimes.
Where to escape the crowds: It pains me to say this, but one of my favorite areas is the best area to avoid crowds: The area by Muppetvision. Particularly the store here sees very little traffic and is a nice place to get some rest. Unlike other parks, Hollywood Studios has a lot of branches that just dead-end, instead of things being made up of circles. As such, those dead-ends either get super crowded (like the branch that ends with the Rocking Roller coaster and Tower of Terror) or they get mostly avoided (like the area with my homie Kermit). Do yourself a favor and see the Muppetvision 3D show while you still can. It's adorable and funny and just a darn good time. Aside from that, the shops on Hollywood Boulevard don't often see too much congestion and the side of Echo Lake where the dinosaur is also tends to be more open.
How to beat the heat: The aforementioned Muppetvision and Muppet store are typically good ways to get away from mean-ol' mister sun. Two walking museums, Star Wars Launch Bay and Walt Disney Presents, are both great experiences for fans and wonderful ways to get away from the heat. I highly recommend visiting both, whether it's hot out or not.
Best Park for: Thrill seekers and people burnt out on Epcot. While not loaded with rides like Magic Kingdom, the rides here are PHENOMENAL and are some of the most traditionally thrilling you can find at a Disney park. Two roller coasters, a 3D show, a 3D ride, a 4D GAMING ride, a massively spooky drop tower and a freakin' stunt show, this park is great for the more adrenaline minded Disney-goer. Also, those of us that occasionally like to use Disney parks as a glorified pub crawl but are maybe just a bit tired of doing Epcot over and over again, this is a great place to get some different views and enjoy some surprisingly well-crafted cocktails in the process.
Worst Park for: Disney Traditionalists and people who prefer newer IP. The former may find that this park at points seems completely unbranded. Certain areas have very little tying them back to Disney, including the Star Wars and Muppet areas (which are both owned by Disney, but don't exist in that core Disney area of mice and princesses, if that makes sense). Heck, unless you're popping in and out of the stores, it's possible to go whole stretches of this park without seeing a single princess or anthropomorphic animal, making it feel more like a park celebrating the eras of Hollywood (which it is) than a Disney Park (which it also is). For the latter type of person mentioned above, a lot fo the stuff on display here is…. rather old. Star Wars and Muppets have had recent films, sure, but they still exist in the past too some degree. There's an Indiana Jones stunt show, an Aerosmith roller coaster, a Twilight Zone drop tower, a live performance of beauty and the beast, and now a whole land dedicated to Toy Story which, as of this post being made, hasn't had a new movie since 2010. The whole area doesn't feel as fresh as other areas might. Sure, Disney isn't adding a new ride every time they come out with a new movie, but they tend to populate in new characters when they can to freshen things up (Norway in Epcot is now basically Frozen-land). This whole park feels a bit trapped in the past, but heck, I think that's what Disney is going for. Honestly, it works. This park is dedicated to memories, with restaurants themed off of days gone by, a museum dedicated to Walt and the old days of Disney history, and the Star Wars Launch Bay having a movie about the rise of Star Wars. This park is about remembering where all this animation and glitz came from, it's humble beginnings that pulled it up to the height it is now. That's why they went with Toy Story Land for the new addition and not a Pixar Land: Toy Story was the first, the OG movie that rocketed that style of animation into the mainstream. This past-reverent outlook may not appeal to everyone, but it is definitely a part of this park's charm.
---
So there ya go, my guide to visiting the lands of Walt Disney World. Obviously, these are built from my experiences at the park, and while I have had many, I of course have not experienced every SINGLE day at Disney World, so other experiences may differ. It's a big place with a lot of people, so there are a lot of variables. However, if you're reading this, I hope you take my guide to heart and use it to have an awesome experience.
The one thing to remember above all else is that Disney World is about one thing: fun. It's a place that promotes learning and creativity, aims to amaze and astonish us, and even shoots to connect us with some of our most delightful childhood memories. When you go to these parks, shrug all the baggage and cynicism so many people choose to bring with them. Don't waste your time scoffing at the prices of ice cream or being sad that a certain ride has a long wait time. Use that energy and find something new. Explore, take pictures, meet the cast members, meet other park goers, or generally just ramble until you end up somewhere new. If you find yourself just rapped in cynical ennui, find a kid in the crowd and look at their face, see their reactions to the colors and shapes around them. That is exactly the experience Disney wants people to have at these parks, one of childlike whimsy. Just get out there and enjoy the Magic.
~C