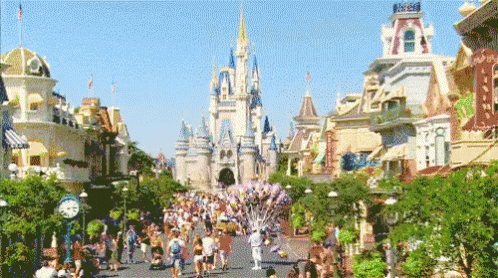 As we approach the end of the summer, we get ever closer to the time of the year when my friends and I start hitting the Walt Disney World parks. We absolutely LOVE going to the parks, especially in the fall when everything cools down and the summer crowds have dissipated (though summer crowds have apparently been down lately, so if you don't mind the heat, might be a great time to go). It's magical being able to roam free in cool fall evening and just enjoy the heck out of every inch of a park. I cannot wait to go back.
I've gone to the Disney World Resort an absolute TON over the years, and I'll often have people ask me which park is my favorite, a question to which I generally don't have an answer. I find myself going to Epcot considerably more but that's typically just because we're taking part in one of its many festivals. I think each park really has its own perks and appeal. They definitely all still feel like a theme park, but between different aesthetics, food offerings, entertainment options and general layout, they honestly each stand apart from one another, satisfying different goals that a group may have.
Below I'm going to lay out my guide to the Fab Four of Disney World: Magic Kingdom, Epcot, Hollywood Studios and Animal Kingdom. I won't be discussing the water parks, since I have not actually been (just not a fan of water parks, tbh), and I won't be including Disney Springs, though I absolutely love the Springs and you should totally go.

---

Magic Kingdom
The Quintessentially Disney One
Best Ride: Personally, Big Thunder Mountain, but all the Disney classics and staples are here, so it's a toss.
Best Show: Philharmagic. Nostalgia at its finest.
Best Snack Spot: Sleepy Hollow (funnel cakes, waffles). Off the beaten path but still fairly centrally located. Sometimes has a line but people rarely hang to eat and there are plenty of other overhangs and shady seating spots nearby if the table area is full (I've never seen it full despite being small).
Best Place for a Meal: Friar's Nook. If you can't make a meal out of tater tots, hot dogs and fried Twinkies, then get on out of AMERICA!
Best Booze: Disney Springs after the park closes (which is fairly early on Sundays). No booze at the MK, my friend..
Where to escape the crowds: This one's tough. Magic Kingdom has NOTORIOUSLY tight walkways. Honestly, finding somewhere people just tend not to tread is best, like over on the edge of Adventure Land where the Golden Oak Outpost is (most people cut through to Frontierland where it connects at the Dole Whip place, so not many people frequent this path). Also head to the area by the water in Frontierland/Liberty Square or the central area in front of the Castle. It's a parade route, so it will get packed at certain points, and there isn't much shade, but it's some of the widest walkway in the park and may be a nice reprieve if you need less people bumping into you. Also, see the next entry.
How to beat the heat: People Mover. Hands down the best place to cool off/get away from crowds/people watch/nap in a Disney Park
Best Park for: That Disney Park experience. This park has the classic rides, Disney characters literally everywhere, Classic films, New films, etc. It is the park most often pictured when Walt Disney World is mentioned and is the par most referenced or parodied. If you are looking for the most Disney you can swallow in a short amount of time, this is your park.
Worst Park for: People who want less crowds. A lot of the pathways are INCREDIBLY tight, especially around big name rides, so it can make areas hard to deal with even when the park is less crowded. Once you get into the Lands themselves, the paths often open up, with the exception here being Frontierland, Adventureland and the area up by Gaston's Tavern still being very tight. Honestly, if you prefer to avoid crowds here, stick to navigating the park along the edges. Most people will cut through the middle areas and/or bounce directly from ride to ride to ride, so pathways that feature less rides often see less traffic. When in doubt, have a map and take side routes to get from A to B.
---

Epcot
The Split Personality One
Best Ride: (Get the torches ready) Spaceship Earth. It's slow, cheesy, silly animatronics, but damn I love this ride… Especially after a few drinks.
Best Show: Epcot has some INCREDIBLE roaming shows throughout its main park, Future World, and the World Showcase. While the concerts in the America Pavilion are definitely neat, I'd instead use your time trying to catch a guy balancing on chairs in France or the Janitor drumline in Future World.
Best Snack Spot:
Future World: Fountain View, which also has coffee if you're like me and generally need a new hit of caffeine every hour or so because you've absolutely ruined your body with too much caffeine and not enough sleep.
World Showcase: Kringla Bakeri Og Kafe in Norway
Best Place for a Meal:
Future World: I prefer the food in the Land Pavilion food court. I can sometimes be pretty packed in there, so Electric Umbrella is also an option, but typically the Land Pavilion has at least one sitting area that is pretty vacant.
World Showcase: God, EVERYWHERE. I haven't done many of the more expensive dining options, but there are plenty of things to choose from. If you're looking for something quicker, then La Cantina de San Angel (Mexico) or the Lotus Blossom Cafe (China) are some of the better counter service options since they have large seating areas. Personal favorite for a more refined experience is the Rose & Crown in England.
Best Booze:
Future World: Not many options, I'm afraid. The coffee booth in Future World East will splash some Kahlua or Bailey's in your beverage, but I'm honestly not sure if that is only active when there is a fest going on (more on that later). Good news, though: The Land Pavilion food court keeps cans/bottles of beer out so you can grab a drink with breakfast if need be… Not that I've…. done that….
World Showcase: God, EVERYWHERE. Literally, there are delicious beverages all over the place, and this is quadrupled if there is a festival happening. Just dive in, man. Heck, see if you can complete the "Drink Around the World Challenge," wherein you get one drink in every pavilion before the park closes (I have done this twice and it is harder than it sounds). Notable stand outs, though, would be the Cava del Tequila (inside the Mexico pyramid, just look for the massive line) and the Rose & Crown (shoutout to a well poured Guinness).
Where to escape the crowds:
Future World: Future World is luckily fairly spacious in its path layout, with the exceptions being the covered walkways that connect East/West to the center. However, if it does get crowded, it can sometimes be tough to find a break from the crowds since the areas off the path are usually where the bathrooms are, so crowds gather there as well. Honestly, best place to get some freedom from the crowds are the winding side paths between Future World and the World Showcase. Essentially, there is a main bridge to the Showcase, and then a series of side paths on either side of that bridge (if you check out a map, you can see what I mean). These are the roads less traveled and can mean some reprieve from the masses if need be.
World Showcase: A lot (and I mean a LOT) of the traffic in the World Showcase fits into two main patterns. The first is a flowing river of people just walking the circle. These folks aim to hit every place in the showcase, either for drinks or to just check them out, and thus any time you go, you'll notice the main thoroughfare is made up of two concentric circles moving in opposite directions. The second pattern is that people tend to congregate in three main areas: The America Pavilion, Japan and Norway. Mexico and the UK can sometimes have quite the crowd, but it's usually later in the day as the boozehounds congregate. These three Pavilions will have considerable crowds zipping about, with America being where people go for the concerts and classic american food, Japan having a massive store (which is honestly a must-see if you're into nerdy things) and Norway having two princesses nobody has ever heard of from a movie nobody watched. Try and hit them early to avoid too much congestion. Ultimately, my rule of thumb for avoiding crowds is to, again, look for side routes, but also to venture deep into the country pavilions. Since much of the crowd sticks to the main circle and ventures away just far enough to grab some food or booze, going deep into the back shops of these areas can provide some relief. My favorites are Canada and Morocco, both of which have sprawling shopping/walking areas that often don't get too blocked up by people. France can be nice too, but the walkways are uncomfortably small, so it can get a bit tight. China has a large shop like Japan that doesn't see as many people, but China gets fairly packed if it's lunch time or if the acrobats are performing, so just keep an eye on the time.
How to beat the heat:
Future World: The Seas with Nemo and Friends. Second only to the People Mover for my favorite napping spot at Disney
World Showcase: The Pyramid in Mexico, if it isn't too crowded. The shops in Morocco and the shop toward the back of France are also nice and cool.
Best Park for: This park has an extremely wide appeal, and even more when you consider that it has a myriad of different festivals (in fact I think there's so many now that there never is NOT a festival going on), so I have to break it down like so…
Best park for those who want some edutainment (or just generally something different) – Both the Future World attractions and the World Showcase have plenty of cool opportunities to learn about science and the world and cultures. If you and your group are into that, there is absolutely plenty of fun to be had at this park. Just take the opportunity to stop and look around you.
Best park for Foodies and Booozehounds – Mainly just the world showcase here, but the options are insane and realistically the prices aren't awful for the portions/quality. All the different festivals mean that there are always new and changing options depending on when you go.
Worst Park for: People who need a LOT of stimuli or that maybe find learning and science a bit boring. I've known a lot of people who find Epcot a teensy bit boring, especially people who have younger kids. If you and your group need more rides or more stimulus, then this may not be the park for you. Add to it that Test Track and Mission: Space can be a bit intense, while Living with the Land and the Grand Fiesta Tour may be a too slow, then you're fairly limited. I've talked to a LOT of people that do Epcot as a day trip, either on their last day before heading back, or before a day they plan to spend at Disney Springs. If you have kids, this park is DEFINITELY worth taking them to, since it does have a lot of opportunity for learning and the general message is to expand your mind. However, it may be reasonable to wait until they're at an age to appreciate gaining some knowledge.
So that's part one. Epcot got away from me a bit, so I figured I'd split this bad boy up.
~C