Lemme tell ya a little bit about one of my favorite comics.
Lazarus, written by Greg Rucka with art by Michael Lark, is a phenomenal book. It's set in a dystopian future where the world has been divided up amongst various pharmaceutical "families." These groups control their portion of the world, running things how they see fit in caste-based societies that range from generally utilitarian to full on tyrannical. The series focuses on Forever Carlyle, who is the Lazarus for the Carlyle family.

A Lazarus is the enforcer for the family and each family has their own. Through various different scientific means, the Lazarus is effectively super-powered and immortal. For Forever, her family keeps her on a strict gene-therapy regimen that provides her with extreme healing, as well as strength and speed. She is a brutal fighter, an excellent tactician, and most importantly, a young woman trying to figure out who she is. The book focuses more heavily on her relationship to the rest of her family than the conflict of the surrounding world. Forever has questions and some of the answers she receives don't sit well with her.
As we walk along with Forever through this world, the rising tensions of the family boil over and war erupts in the world. This conflict drives wedges between Forever and her friends and further wedges between her and her family as positions of power change hands and betrayals are found.
Lazarus is an amazing balance of action and subterfuge. There is grit and gore enveloping moments of intense heart and troubling deceit. The setting and storytelling make for an exquisite blend of Game of Thrones and Children of Men. It's like Minority Report meets Godfather. If you like science fiction, it's an excellent read. If you like dystopian stories, it's an excellent read. If you like action and ninjas and military might and spec-ops infiltration and guns a-plenty it's an excellent read. If you like COMICS or even just AMAZING storytelling it's an excellent read.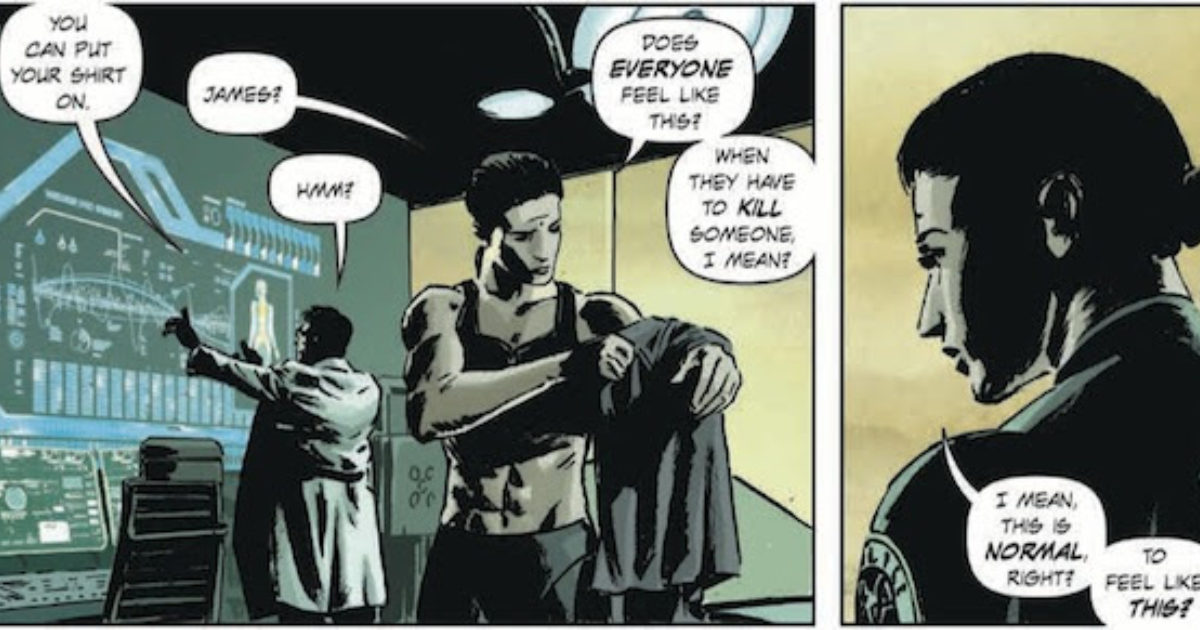 And let's not leave this note without discussing Lark's incredible artwork throughout. Lark's linework mixed with the incredible colors of Santi Arcas give the book a shadowy grit that transitions perfectly between moments of intense battle and instances of subtle struggle. Whether in a board room discussing attack patterns or on the field dodging heavy rifle fire, the art flows from panel to panel, page to page seamlessly, while providing plenty of subtle nods to all the behind the scenes actions and flat out lies committed by the families and their agents. At times we see characters acting one way while saying something completely different. As the reader immerses themselves into the world, they feel the same unease that the characters feel, as the veneer of the families is challenged every step of the way.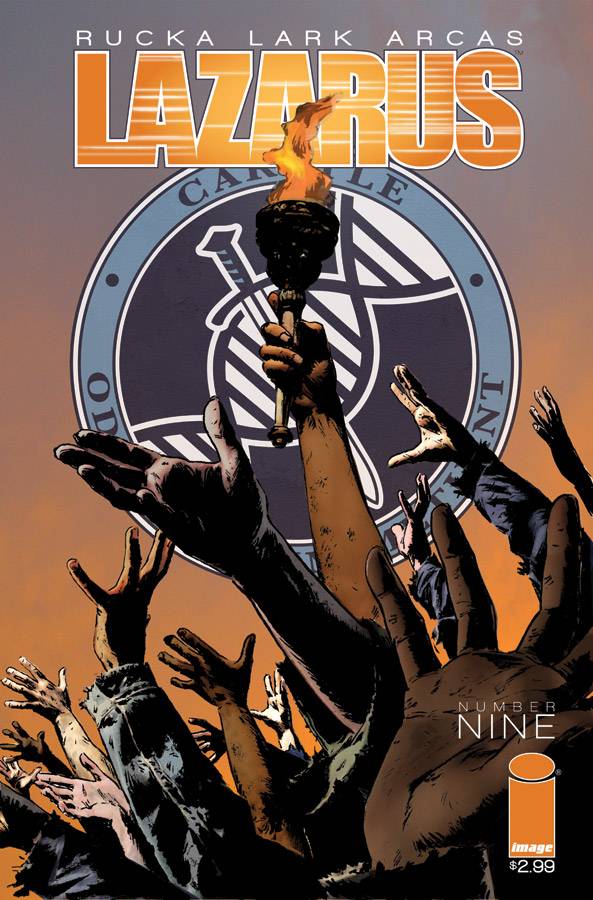 Whether you're an avid comic reader or someone who has never touched a comic in their life, Lazarus is an excellent bit of literature that deserves your attention. The current run is called Lazarus Risen and is now a quarterly book that includes prose elements. I am so excited to see this story grow and discover what the future holds for Forever and those around her. I really hope you take the opportunity to join me.
~C